SKI AND FOOTBALL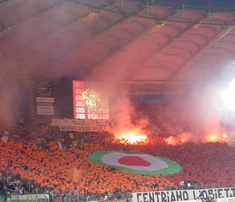 A chance to see Europe's top clubs like Juventus, AC Milan and Inter Milan play against other top teams in the Serie A, Coppa Italia, UEFA Cup and UEFA Champions League.
As part of your apres ski we take you to evening games in Turin and Milan to watch these famous teams, world class players, incredible stadiums and passionate fans! The amtosphere at the Italian games is bordering on mental with flares, sound bombs, drums, flags and thousands of singing and chanting fans.
19 Jan 2011 INTER MILAN VS CESENA
Inter Milan should wrap up the three points easily here.
12 Jan 2011 INTER MILAN VS GENOA
Inter Milans record in the Coppa Italian has been incredible the last few seasons having made it to the final five of the last six years, and lifting the trophy in three of those.
06 Jan 2011 INTER MILAN VS NAPOLI
The last few years Inter Milan have been well ahead of their rivals by January.